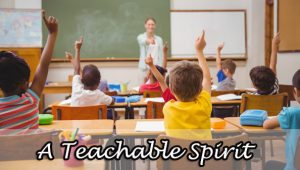 For most of the country by now, schools are back in session. Back-to-school sales are over, and for families, weekday mornings are now a flustered rush to get to the big yellow bus in time, lunch in one hand and homework in the other. Students are off to learn their reading, writing, and 'rithmetic.
I always loved learning. Not everyone has the same learning style, but formal education and I got along really well. Even to this day, I love to learn. Whether it's taking an online course to learn new computer software or attending a writers' conference to further my skill level, obtaining new knowledge excites me even when it doesn't always come easily.
However, if I don't put what I learn into practice, it would be a waste of my time and resources, especially concerning biblical matters. Philippians 4:9 says, "Those things, which ye have both learned, and received, and heard, and seen in me, do: and the God of peace shall be with you." God desires for us to have a teachable spirit so we can learn and grow in Him to His glory.
In God's eyes, learning is a good thing, benefitting our lives and souls. In Matthew 11:29, Jesus says, "Take my yoke upon you, and learn of me; for I am meek and lowly in heart: and ye shall find rest unto your souls." John 14:26 assures us the Holy Spirit teaches us. "But the Comforter, which is the Holy Ghost, whom the Father will send in my name, He shall teach you all things, and bring all things to your remembrance, whatsoever I have said unto you" (John 14:26).
The world looks at us as Christ's ambassadors, so if we aren't applying what we learn, we aren't representing Him very well. Titus 3:14 says, "And let ours also learn to maintain good works for necessary uses, that they be not unfruitful." The fruit we bear is evidence that we're putting our new knowledge to good use.
Have you ever heard the saying, "You can't teach an old dog new tricks"? Well, I have a hunch that if God was done teaching us, no matter what our age, we'd be at home with Him in heaven. God has a purpose and a plan for each of us during our time on earth. Exodus 9:16 says, "And in very deed for this cause have I raised thee up, for to shew in thee my power; and that my name may be declared throughout all the earth."
If a teachable spirit doesn't come naturally to you, "…let him ask of God, that giveth to all men liberally, and upbraideth not; and it shall be given him" (James 1:5). Let's apply what we learn so that we may bear fruit to the glory of God.
"Study to shew thyself approved unto God, a workman that needeth not to be ashamed, rightly dividing the Word of truth" (II Timothy 2:15).
Jessie Chamberlain
Family Radio Staff