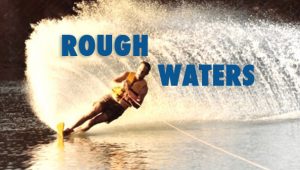 The early morning air rushed past me. I shivered with glee as I cut outside the boat's wake, my single ski skimming effortlessly through the smooth water. The evergreens emerging from the rocky banks reflected on the lake's surface like a mirror. No one else was in sight. All I could hear was the low hum of the boat's motor and my own laugh as I jumped the wake back to the other side.
Every summer, my family made the four-hour trek to Lake Shasta in Northern California for a week of houseboating and waterskiing. Our beautiful ski boat was older than I, but my dad kept it purring like a kitten. I first learned how to double ski the summer before I turned five. It took me three days of trying before I got up, but I finally did and loved every minute of it. A couple of years later, Dad decided it was time for me to learn how to single ski. Once again, it took some effort, but I learned.
Ideally, I would ski when the water lay unbroken and still. However, times inevitably came when the wind kicked up or other boats made the water choppy. During those times, if I didn't heed Dad's advice to bend my knees and keep my elbows straight, I would trip and face-plant. The more I faced the rough water, the more confident I grew in following Dad's wisdom and in honing my skills as a waterskier.
I may not enjoy skiing across the enormous wakes left by wakeboard boats, but I know that doing so tests me as an athlete. There isn't any reason to be ashamed or embarrassed as I struggle to keep my balance because I know it will only increase my skill. The same truth can be applied spiritually.
Romans 5:3-5 says, "And not only so, but we glory in tribulations also: knowing that tribulation worketh patience; and patience, experience; and experience, hope: and hope maketh not ashamed; because the love of God is shed abroad in our hearts by the Holy Ghost which is given unto us." Trials will come, but by the powerful love and grace of God and the following of His Word we will make it through and our faith will be made stronger on the other side.
Likewise, James 1:2-5 says, "My brethren, count it all joy when ye fall into divers temptations; knowing this, that the trying of your faith worketh patience. But let patience have her perfect work, that ye may be perfect and entire, wanting nothing. If any of you lack wisdom, let him ask of God, that giveth to all men liberally, and upbraideth not; and it shall be given him."
The more we face rough waters, the more we can "hone" our spiritual skills of faith, hope, and love (I Corinthians 13:13), "that ye might walk worthy of the Lord unto all pleasing, being fruitful in every good work, and increasing in the knowledge of God…" (Colossians 1:10). If we keep our eyes fixed on Christ, we won't sink into the waves like Peter walking across the Sea of Galilee (Matthew 14:25-33). Then we can grow from spiritual babies to spiritual maturity.
When rough waters come, bend your knees and keep your elbows straight. Remember Who is in control of the winds and the waves.
Jessie Chamberlain
Family Radio Staff