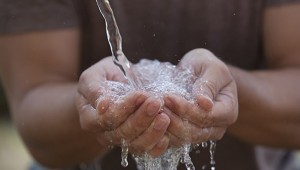 "And a clean person shall take hyssop, and dip it in the water, and sprinkle it upon the tent, and upon all the vessels, and upon the persons that were there, and upon him that touched a bone, or one slain, or one dead, or a grave: and the clean person shall sprinkle upon the unclean on the third day, and on the seventh day: and on the seventh day he shall purify himself, and wash his clothes, and bathe himself in water, and shall be clean at even." (Numbers 19:18-19).
In 1846, Hungarian doctor Ignaz Semmelweis set out to determine why so many women in maternity wards were dying from what was commonly known as childbed fever. He compared two wings: one staffed completely by doctors and medical students, and one staffed entirely by midwives. As a result, he found that women were five times as likely to die in the wing staffed by doctors and medical students.
After much frustrating research and the death of a colleague after performing an autopsy on a woman who had died from childbed fever, Semmelweis determined that the major difference between doctors and midwives was that doctors performed autopsies. He hypothesized that particles were getting on the hands of the doctors during the autopsies and transferring to the women during childbirth, who would then contract the disease and die. His solution? To have the doctors wash their hands and instruments in a chlorine solution. The rate of childbed fever fell dramatically.
It seems strange to think of a time when doctors didn't even wash their hands between patients. Over 1800 years passed before the "modern world" figured out the benefits of antiseptic, yet during the Old Testament era, God commanded the Israelites to purify themselves with water suffused with hyssop, an herb with cleansing properties.
While it can sometimes feel tedious to read through the Old Testament's Books of the Law like Numbers, it's exciting to see that God didn't give the Israelites so many laws to follow just because He's God and could make them jump through hoops; He gave them laws to protect them. The Israelites, God's chosen people, understood that the purpose behind following these laws was to purify themselves both physically and spiritually so they would be acceptable before God.
The Israelites tried to follow His laws, and at times failed royally. Our sins – when we break God's laws – separate us from God, putting an obstacle in our ability to have a relationship with Him and to come before Him in worship. However, God tells us, "If we confess our sins, He is faithful and just to forgive us our sins, and to cleanse us from all unrighteousness" (I John 1:9). God, in His graciousness, provides the means for us to be cleansed in His sight and to freely approach Him.
Psalm 51:7, 9-13 says, "Purge me with hyssop, and I shall be clean: wash me, and I shall be whiter than snow…Hide Thy face from my sins, and blot out all mine iniquities. Create in me a clean heart, O God; and renew a right spirit within me. Cast me not away from Thy presence; and take not Thy Holy Spirit from me. Restore unto me the joy of Thy salvation; and uphold me with Thy free spirit. Then will I teach transgressors Thy ways; and sinners shall be converted unto Thee."
Jessie Chamberlain
Family Radio Staff