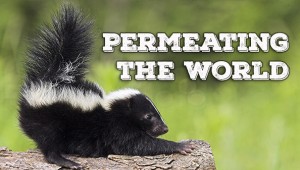 I sat straight up in bed.
"Oh no!"
My husband turned over. "What's wrong!?"
"Basher's been sprayed by a skunk!" I lamented.
Our American Akita lay by the bed, innocently licking himself as if nothing was amiss. The smell was so strong I could taste it. My sleepy mind reeled. The dog is inside. How did he get sprayed by a skunk? Is there a skunk inside our house?
"Is the back door open?" I questioned my husband. "And how did you sleep through that smell?"
"Oh dear." He started to get up. Basher had been on antibiotics that caused him to need the doggy potty at a moment's notice, so our solution to save the new carpet in our rental home was to leave the sliding back door cracked open so he could exit when nature called in the middle of the night. It seemed to have misfired. Mission not quite accomplished.
We left the dog in the backyard and futilely tried to sleep. The entire house reeked. In the morning, I showered and went to work as usual. But I could still smell it on my clean clothes. I could even still taste it. My whole world had been permeated.
When a skunk sprays, it's because it's protecting itself. So really, the spray is beneficial. Just not for our noses. Although, there are a few oddballs who like the smell of skunk. Some companies even produce skunk-scented candles. To each his own, I suppose. But whether or not you like it has no effect on the sheer and utter permeation of the scent into everything in its proximity.
Matthew 5:13-16 says,
Ye are the salt of the earth: but if the salt have lost his savour, wherewith shall it be salted? it is thenceforth good for nothing, but to be cast out, and to be trodden under foot of men. Ye are the light of the world. A city that is set on an hill cannot be hid. Neither do men light a candle, and put it under a bushel, but on a candlestick; and it giveth light unto all that are in the house. Let your light so shine before men, that they may see your good works, and glorify your Father which is in heaven.
Salt permeates food, giving it flavor and preserving it. Light permeates darkness, eliminating fear and doubt. Jesus calls believers to imitate these things. We are to permeate the world with our good works so God will be glorified.
Permeating the world implies engaging those who live in the world. Otherwise, no one can see or be recipients of our good works. We can participate in community events. Join a garden club.
Take an exercise class. Build relationships with the people who populate our daily lives. Let's be around others so we have opportunities to love them to the glory of God.
As we go out, people will be watching, so let's be careful how we represent our Lord. II Corinthians 5:20 says, "Therefore, we are ambassadors for Christ, God making His appeal through us." Let's put on the full armor of God (Ephesians 6:10-18), and personify the fruit of the Spirit (Galatians 5:22-23). Titus 2:7-8 says, "In all things shewing thyself a pattern of good works: in doctrine shewing uncorruptness, gravity, sincerity, sound speech, that cannot be condemned; that he that is of the contrary part may be ashamed, having no evil thing to say of you."
God, speaking through the Apostle Paul, said, "For I am not ashamed of the Gospel of Christ: for it is the power of God unto salvation to every one that believeth; to the Jew first, and also to the Greek" (Romans 1:16). We don't need to be shy or fearful; God is with us and will give us the right words.
What are you waiting for, a skunk to motivate you? Go permeate the world with God's love!
If you're reading this on social media, post in the comment section how you can be a part of your community.
Jessie Chamberlain
Family Radio Staff