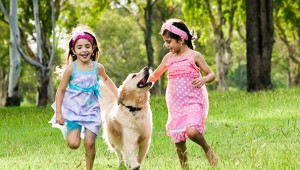 Puppies are fun. They're playful, energetic, mischievous, cuddly, and adorable. When a puppy lives with an older dog, the puppy adds new life and enthusiasm to the older dog's behavior, almost as if the older dog remembers how enjoyable it is to be young. That is, until the puppy's antics get too annoying and the older dog curbs his boundless energy with a little nip to teach him a lesson in good manners and to remind him to respect his elder.
In Matthew 18:3, Jesus said, "…Verily I say unto you, Except ye be converted, and become as little children, ye shall not enter into the kingdom of heaven." Children inherently trust their parents to provide for them and protect them, an unparalleled level of faith. When parents are able to shield their children from the challenges of the world, they naturally live carefree and anxious about nothing (Philippians 4:6).
One day while Jesus was teaching, children were brought over so He could pray for them. The disciples tried to shoo the kids away, but Jesus stopped them. "…Suffer little children, and forbid them not, to come unto me: for of such is the kingdom of heaven" (Matthew 19:14). Christ had different priorities than His disciples anticipated. He demonstrated the value in showing children love and the importance of pouring into them.
In Paul's first letter to Timothy, God through Paul said, "Let no man despise thy youth; but be thou an example of the believers, in word, in conversation, in charity, in spirit, in faith, in purity…neglect not the gift that is in thee…Take heed unto thyself, and unto the doctrine; continue in them: for in doing this thou shalt both save thyself, and them that hear thee" (I Timothy 4:12, 14, 16).
Timothy was a young man whom Paul had taken under his wing to mentor and disciple. Despite his age, Timothy taught at the church in Ephesus. Paul knew that God had equipped Timothy with a gifting to lead others – even those older than he – in the faith, and encouraged him to do so and to set an example for those around him.
Boundless energy, buoyant optimism, eager exuberance, heartfelt compassion, scope for imagination – such youthful attributes sound so cheerful, so hopeful, so desirable. With age can come complacency and pessimism. Life is hard, and experience is a tough teacher.
If "Children should be seen and not heard," then "You can't teach an old dog new tricks." But the Bible teaches that neither of these are true. No matter what your age, there is always someone younger. Find them. Disciple them. Feed their passion; don't extinguish it. Take the opportunity to show them Christ's love. Not to mention, learn from them.
On the other hand, the younger generation can open themselves to learn from those who have more life experience. Job 12:12 says, "With the ancient is wisdom; and in length of days understanding." Make the most of the chance to learn from someone else's background instead of learning for yourself the hard way.
Like a puppy with an older dog, let the boundless energy and eager exuberance of a youth enhance your own enthusiasm as you continue to follow Christ.
Jessie Chamberlain
Family Radio Staff