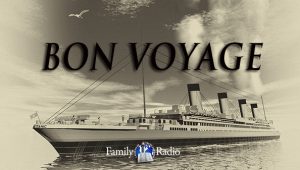 On April 15, 1912, disaster struck. The largest passenger liner of that era foundered after striking an iceberg, sinking to a cold and watery grave. The ship said to be "unsinkable" turned out to be just the opposite. Due to poor decision-making and planning, there weren't enough lifeboats on board for all the passengers and crew. Over 1,500 lives were lost. The story of Titanic is a familiar one, one that still teaches us an important lesson today: we can learn from past mistakes.
Mistakes aren't fun. They can leave us feeling guilty, embarrassed, angry, or ashamed. However, Proverbs 24:16 says, "For a just man falleth seven times, and riseth up again…" When we make a mistake, we can pick ourselves right back up and try again. "It is of the Lord's mercies that we are not consumed, because His compassions fail not. They are new every morning: great is thy faithfulness" (Lamentations 3:22-23).
Learning from past mistakes doesn't mean that we dwell on them. In Philippians 3:13, God says through Paul, "Brethren, I count not myself to have apprehended: but this one thing I do, forgetting those things which are behind, and reaching forth unto those things which are before…" We learn from them, and move on.
Again, God speaks through Paul, "Finally, brethren, whatsoever things are true, whatsoever things are honest, whatsoever things are just, whatsoever things are pure, whatsoever things are lovely, whatsoever things are of good report; if there be any virtue, and if there be any praise, think on these things" (Philippians 4:8). These subjects are profitable for our thought lives.
While we may not make a mistake that causes the death of 1,500 people, making mistakes is inevitable. We are human. Job 14:1 says, "Man that is born of a woman is of few days and full of trouble." In other words, everyone makes a mess out of things now and again. What matters is how we respond when we do. Are we going to wallow in self-pity or pretend they didn't happen? Or are we going to glorify God by how we deal with them?
I Peter 5:6-7 says, "Humble yourselves therefore under the mighty hand of God, that He may exalt you in due time: Casting all your care upon Him; for He careth for you." Not all mistakes are sins, but when they are, we should confess them to God. The Psalmist said, "I acknowledged my sin unto thee, and mine iniquity have I not hid. I said, I will confess my transgressions unto the Lord; and thou forgavest the iniquity of my sin. Selah" (Psalm 32:5).
So learn from your mistakes, say, "Bon voyage" to them, and then "press toward the mark for the prize of the high calling of God in Christ Jesus" (Philippians 3:14).