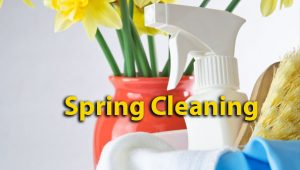 Spring cleaning. Most people groan before diving into such a chore. Others detest it so intensely that they procrastinate doing it until the following year. Some ignore the idea of it altogether. Not me. I love to organize, sort, and clean. It brings me satisfaction to purge things I don't need from my life, and reprioritize the things that actually help me live life and bring me joy on a day-to-day basis.
While "cleanliness is indeed next to godliness" is a quote from evangelist John Wesley and not the Bible, God isn't silent on the topic. Genesis 2:15 says, "And the Lord God took the man, and put him into the garden of Eden to dress it and to keep it." He also spends several chapters in the book of Leviticus defining for the Israelites what it means for a person to be clean or unclean. Throughout the Bible, God uses the term "unclean" to refer to something that is displeasing to Him, whereas "clean" symbolizes righteousness (II Corinthians 7:1).
In John 15:2-3, Jesus says, "Every branch in me that beareth not fruit He taketh away: and every branch that beareth fruit, He purgeth it, that it may bring forth more fruit. Now ye are clean through the word which I have spoken unto you." In other words, God gets rid of unfruitful branches, and prunes the good ones so they will become even more useful.
Of course, God isn't merely referring to gardening; He's comparing pruning branches with the Holy Spirit sanctifying believers. God used Paul to say, "What shall we say then? Shall we continue in sin, that grace may abound? God forbid…" (Romans 6:1-2). The Holy Spirit prunes sin out of our hearts so that we can grow in Him (Galatians 5:22-23). God is, in essence, cleaning.
God uses another example to help us understand His cleansing work in our hearts. Deuteronomy 30:6 says, "And the Lord thy God will circumcise thine heart, and the heart of thy seed, to love the Lord thy God with all thine heart, and with all thy soul, that thou mayest live." God is literally cutting away the clutter in our hearts.
Sin, or uncleanliness, keeps us from God. Isaiah 59:2 says, "but your iniquities have separated between you and your God, and your sins have hid His face from you, that He will not hear." Thankfully, God works to remove that separation to restore us to a right relationship with Him. Through God's cleansing work, we can experience His joy daily (Psalm 16:11).
Do you need to allow God to do a "spring cleaning" in your heart so that "thou mayest live"?