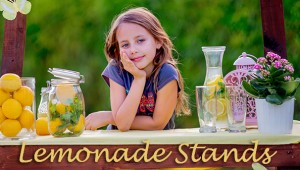 It's the middle of summer now – can you believe how time has flown? School's been out for weeks, the sun is out, and the heat is on. Kids are starting to go stir crazy, and they're taking their parents down with them. As I drive, I see more and more kids sitting at lemonade stands in their front yards – a great antidote to under-stimulated children and parents who are at the end of their ropes.
Lemonade stands sure have changed since I was a kid. Back then I would pick the lemons from my grandma's tree, twist them by hand on the juicer, and go through the painstakingly sour process of figuring out the right lemon juice-to-water-to-sugar ratio. Now, kids have traded the real deal for powdered lemonade – a backwards move in my opinion. BUT they've added homemade cookies and cupcakes to up the ante. Kids are such entrepreneurs nowadays; it's rare that I walk away from a lemonade stand for under $5. How sweet the taste of lemonade to quench one's thirst on a hot summer's afternoon!
In John 4, Jesus spoke to a Samaritan woman who had come to draw water from Jacob's well. He said, "…Whosoever drinketh of this water shall thirst again: but whosoever drinketh of the water that I shall give him shall never thirst; but the water that I shall give him shall be in him a well of water springing up into everlasting life" (John 4:13-14).
As we just read, Jesus began this conversation with the woman by talking about ordinary water, H2O, which requires continual consumption to live. Then He claimed to be able to give her a different kind of water that eternally quenches thirst: salvation. The analogy He used is so true, isn't it? Like the Samaritan woman, whether we know it or not, we all crave something of significance, of necessity, to our very souls. Often we learn the hard way that the satisfaction we want can't be found in the things of this world, and wind up feeling empty and broken. But like Jesus communicated to the woman, the fulfillment found in His gift of salvation is the only lasting, meaningful satisfaction available to us, one that fills us with hope and joy.
I marvel at Jesus' ability to turn normal conversation into one of spiritual significance so He could witness to the Samaritan woman about Himself. Christ, as God incarnate, gave us a great example of how we can implement His "Great Commission" of teaching others about Him (Matthew 28:18-20). Let's not neglect this approach by letting it fall by the wayside, but try to make it a part of our daily lives to the glory of God.
God also has this to say about thirst:
Psalm 42:1-2 "As the hart panteth after the water brooks, so panteth my soul after thee, O God. My soul thirsteth for God, for the living God: when shall I come and appear before God?"
Psalm 63:1 "O God, Thou art my God; early will I seek Thee: my soul thirsteth for Thee, my flesh longeth for Thee in a dry and thirsty land, where no water is…"
John 6:35 "And Jesus said unto them, I am the bread of life: he that cometh to me shall never hunger; and he that believeth on me shall never thirst."
Are you thirsting after the things of this world? Or, even better than the sweet taste of lemonade on a summer afternoon, is your thirst being quenched by Christ, the giver of eternal life?
Psalm 34:8 "O taste and see that the Lord is good: blessed is the man that trusteth in Him."
Jessie Chamberlain
Family Radio Staff